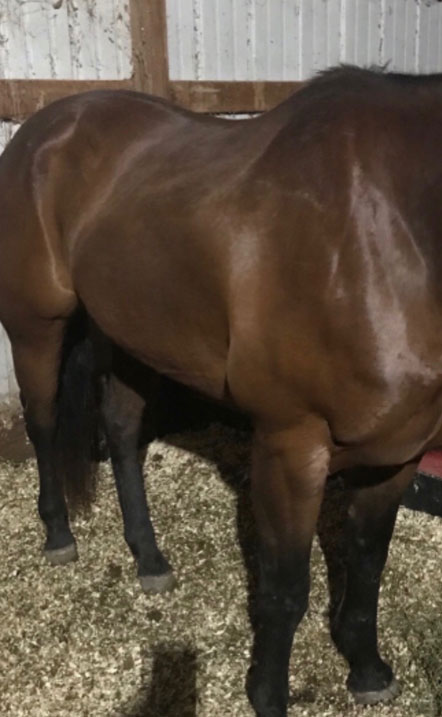 The Eligius® Difference
ELIGIUS® feed is premium equine nutrition for horses of all disciplines and activities.  ELIGIUS® contains Kentucky Equine Research (KER) Micronutrients to deliver the optimum level of vitamins and minerals required for health and performance.  By removing fillers and flavoring agents that interfere with digestion, ELIGIUS® is "refined equine nutrition" that will complement the forage portion of the diet to improve a horse's performance, health and well-being.
For more than half a century, Lowe's Pellets & Grain, maker of ELIGIUS®, has been committed to premium feed and supplements, made from only the finest quality-tested ingredients, vitamins and minerals.  Located in Southeastern Indiana, they are a leading independent, family owned and locally operated full-service feed company, dedicated to serving all aspects of the agriculture industry throughout the Midwest.
What Our Clients Are Saying
"Absolutely love their Low Carb Horse feed. It's the absolute best. My horses coat is so healthy and shiny and his weight is better than ever! Got my Lowes Feed through Morris Feed and Hay but wherever you get it you'll love it"
"Great quality feed. Great folks honest and caring."
"Wonderful product, great service"
What's in a Name?
ELIGIUS® found inspiration from its namesake, Saint Eligius, the patron saint of horses and metalsmiths who lived during the early 6th century in France.  Having learned his father's trade, Saint Eligius became an extremely skillful metalsmith, which gained him fame and widespread recognition.  Noticed by the king for his exceptional quality of craftsmanship, he was made Master of the Mint and eventually served as counsellor to the throne.  With his fame, also came fortune.  
Believing that the use of one's talents and wealth for the welfare of humanity was a very true reflection of the image of God, Saint Eligius built many churches, ransomed slaves and was generous to the poor.  Later in life, he fulfilled his desire to serve God as a priest and bishop of Noyon and Tournai.  Known for his integrity, Saint Eligius was so well liked that he attracted many to Christ through his generous spirit, kindness and happy demeanor.
Founded on the Principles of Quality, Integrity & Service
Eligius®, a Lowe's Pellets & Grain brand, makes quality feeds for equine. Because of our commitment to quality and safety, our products and facility are 100% Safe Feed / Safe Food certified. The Safe Feed/Safe Food program establishes comprehensive standards of excellence that go beyond existing regulations to maximize food and feed safety.